The summary allows you to report on a variety of metrics and analyze the performance of your workforce over a selected period of time and grouped in a variety of ways. 
Running a Summary Report:
Start by selecting your reporting period and then decide how you want to view the data. This includes organizing the data by group, agent and/or ticket field and you can utilize 1, 2 or 3 groupings for your report. After you have selected how you want to view the data simply hit "RUN" to generate the report.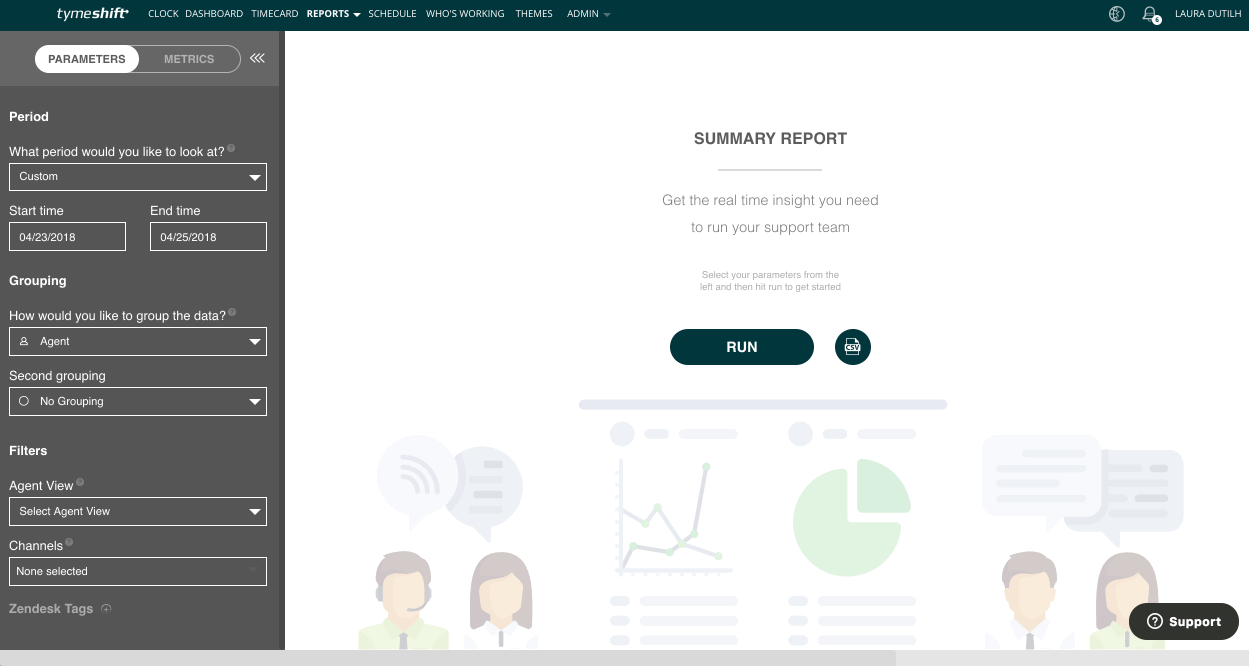 The data will be displayed based on your selections: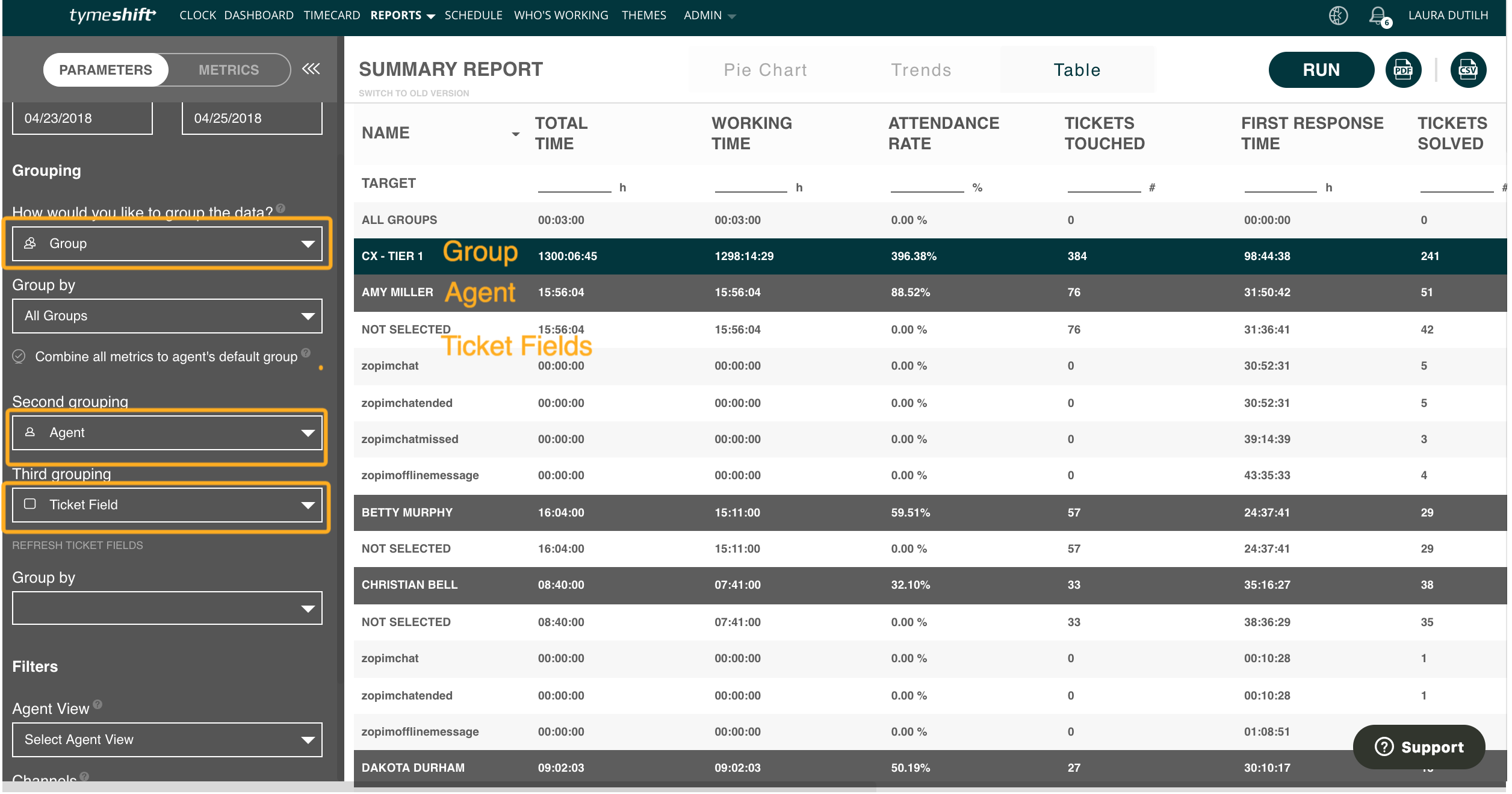 Include even more metrics by expanding the "METRICS" menu on the left side of your screen.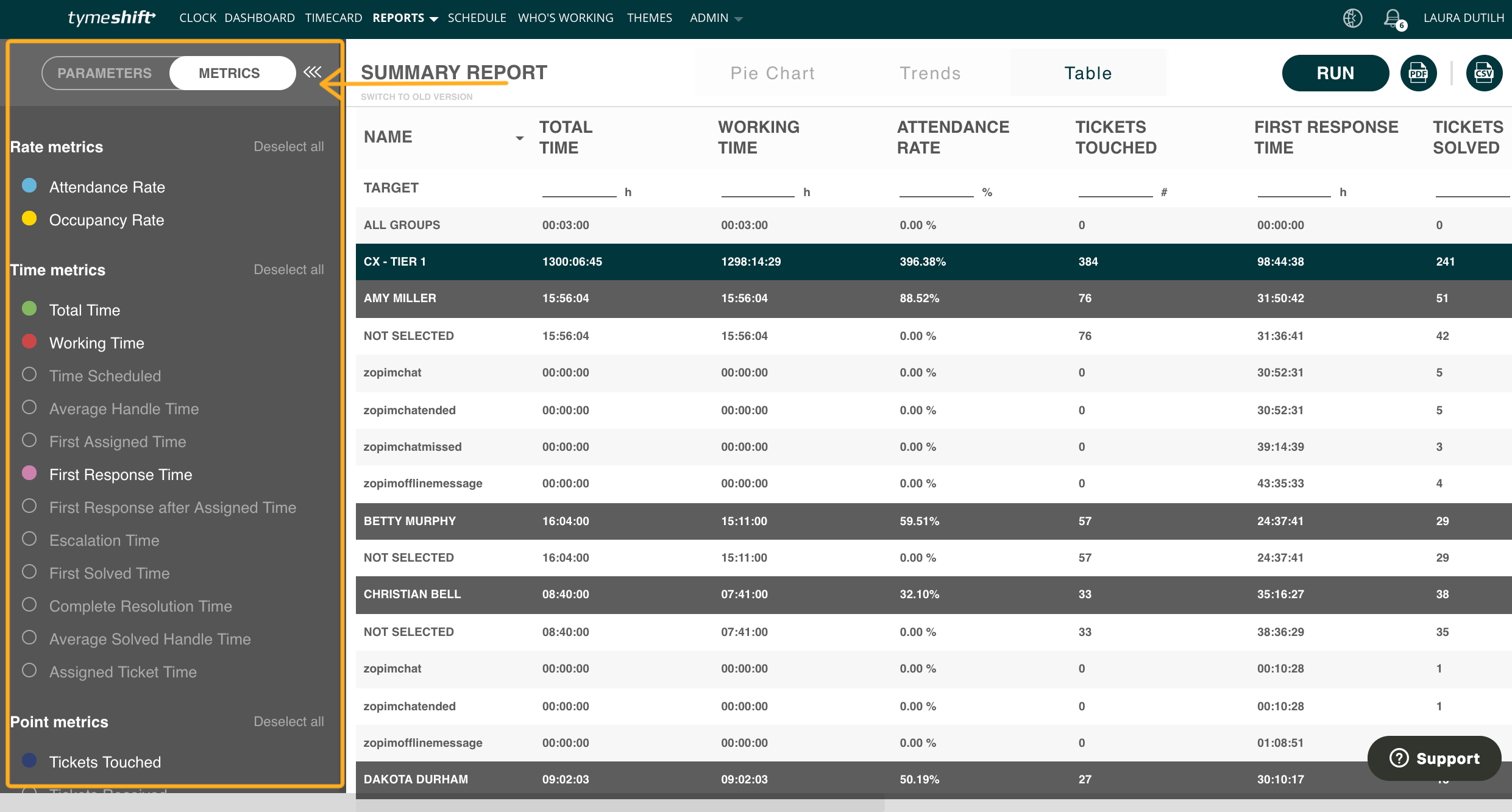 Pie Chart and Trends: 
If you'd prefer a more visual report, you can use the Pie Chart and Trends.
To display the Pie Chart, place your mouse over the metric you'd like to see. A circular icon saying "Show on a Pie Chart" will pop up. Click on that, and you're good to go.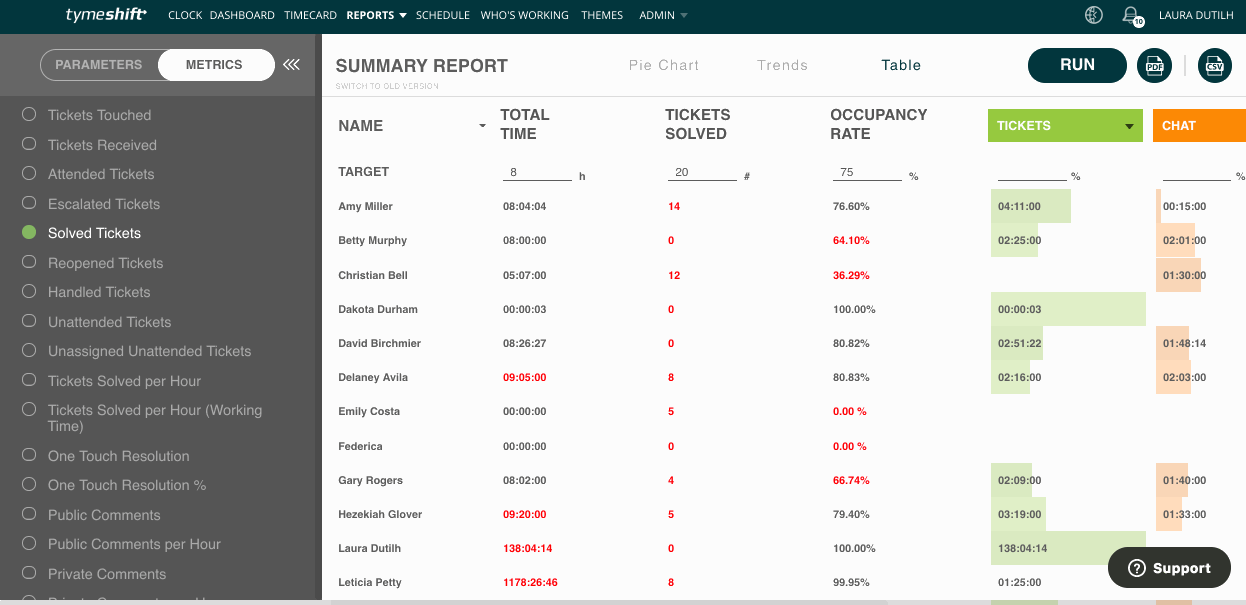 Reading a Summary Report:
Sort your data by clicking on one of the tabs at the top of the report:

View information for each "General Tasks" by clicking on that tab to expand it: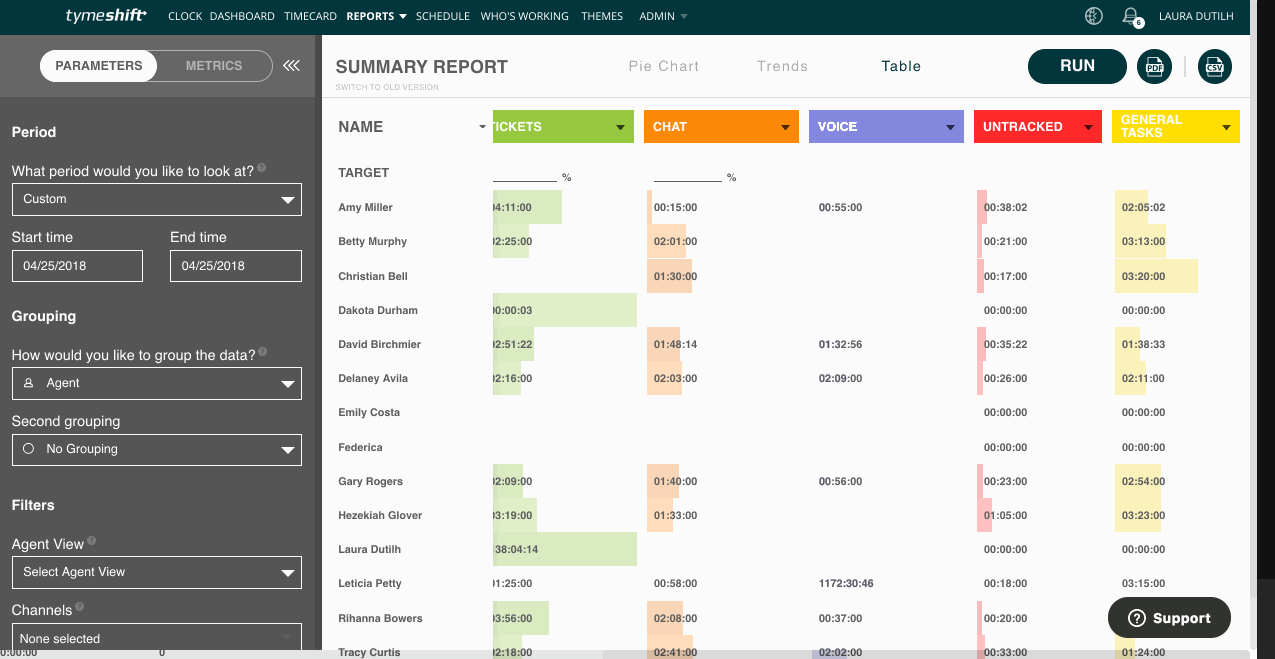 View additional information by clicking on the totals categories for each agent: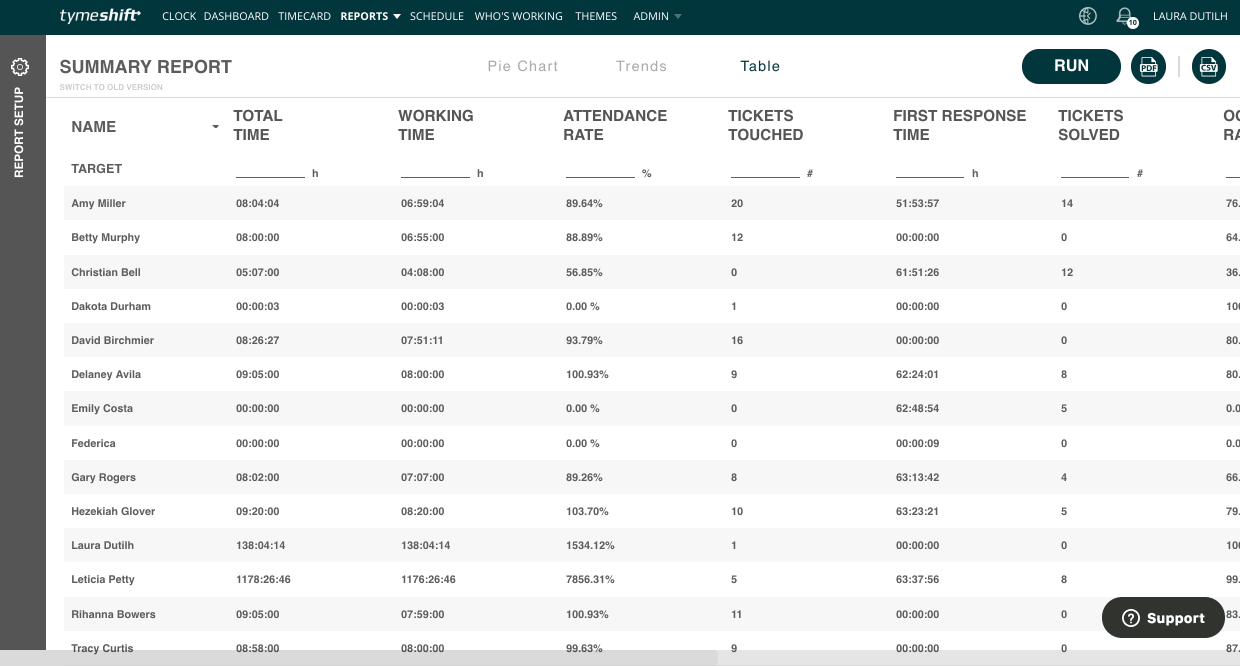 ​
Add targets that will highlight amounts that do not fall within an acceptable range: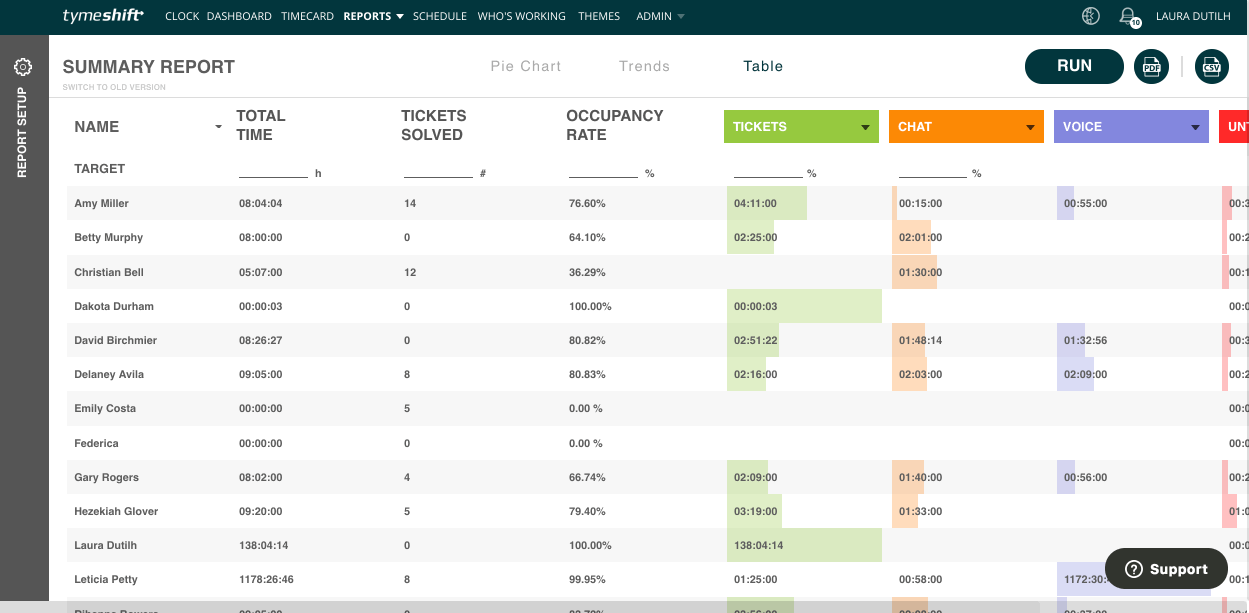 FAQ 
How are averages calculated over a period of time in the summary report?
Averages are calculated based on the totals within the period you selected.
For example, let's report on occupancy rate over 3 days to illustrate this:

Monday: 6 hrs productive time / 8 hrs working time = 75% occupancy rate
Tuesday: 5 hrs productive time / 8 hrs working time = 62.5% occupancy rate
Wednesday: 2 hrs productive time / 4 hrs working time = 50% occupancy rate

When you run a report for Monday-Wednesday, the occupancy rate for those 3 days will be:
13 hrs productive time / 20 hrs working time = 65% occupancy rate 
Why does this matter? 
The alternate way to calculate the average would be to add up the occupancy rate over the 3 days (75  + 62.5 + 50) and then divide it by 3. This would result in an average occupancy rate of 62.5%. If you'd prefer to use this method, we recommend exporting the data in the summary report and calculating it using your own internal reporting. 
How often is this report updated?
This report is real-time, but after you run it, the results will be cached for 10 minutes.
When I calculate the value of a metric myself, I find that it's slightly different than the report. Why? 
By default, when using the decimal format Tymeshift will only show 2 decimal places. Alternatively, you're using the hours/minutes, it will only show minutes and not seconds. Although the additional decimal places/seconds are not shown, they will still be taken into account when calculating metrics that rely upon each other. Thus, when you perform the calculation manually, you are not using the exact time but rather the time shown to 2 decimal places or minutes, not seconds. This is what causes the slight difference when calculating the values manually. You may change the time format to use HH:MM:SS under Admin > Settings.
What does "combine all metrics into agent's default group" mean?
If the "combine all metrics into agent's default group" is checked, the groups are used for the purpose of organizing agents. For example, if there is an agent that moved to a different default group, they would now appear in their new default group in the report.
If the "combine all metrics into agent's default group" is unchecked then groups are used like queues, in a sense that, metrics will be reported based on the group the ticket is in as opposed to the group of the agent.
You can learn more about how this works in our article about How Groups Work in Reports.
When can I use the metric Schedule Adherence in Summary  Report?
Visibility of Schedule Adherence is changing in the Metric tab, depending on what filter we use in "Grouping" section. It is visible in rate metric when the first grouping is set to Agent or Group and accordingly the second grouping can be set to Group or Agent.
How do I use Organization filter inside Summary Report's Parameters?
Summary report offers filtering by Organizations you have set up inside your Zendesk, but note that if your Zendesk account doesn't have any organizations, Tymeshift Summary Report will not have that filtering under Parameters.