Agent Activity allows you to visualize the time spent on tickets, calls, chats, tasks and untracked time. This is a great way to very quickly see what agents have been working on and how much down time they may be experiencing.

The time is separated into one of three categories and percentages for all three categories are listed at the very bottom along with the total amount of time for each.
Determine what appears by selecting the following:
Day
Rolling period: select the starting time you'd like to see 
Specific agent or a group of agents
Hide agents with zero time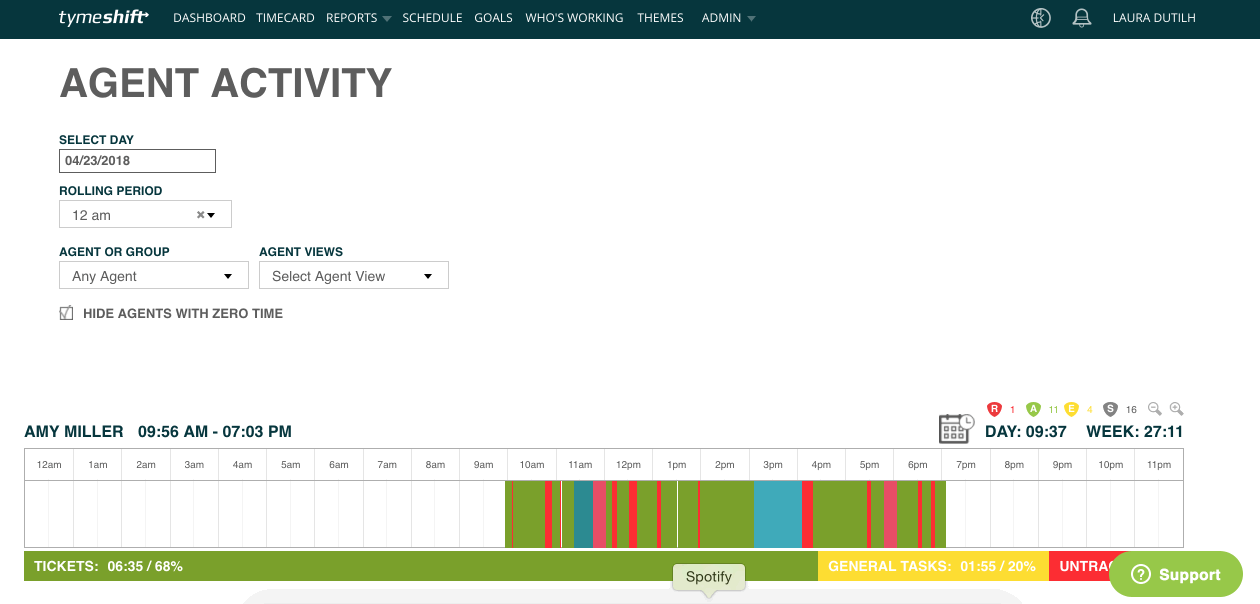 By hovering over the time entries you are able to see additional information, including the ticket number and start and end time of that entry.
Please note that you can also use the Timezone Switcher to visualise your Agents Activity from their Timezone: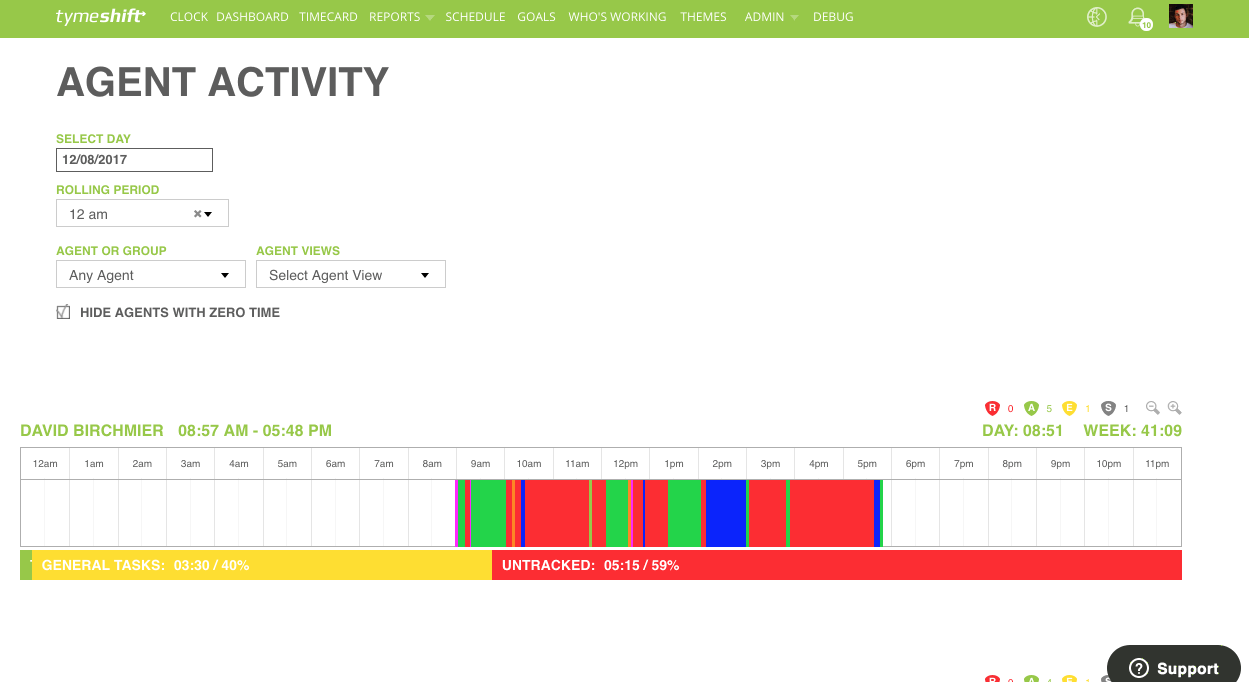 Schedule Adherence :
Within the Agent Activity report, you can also see the Schedule Adherence. It's pretty important for your agents to stay on track, why else would you make such detailed shift schedules? You can use the Schedule Adherence feature to see what your agents were supposed to be working on at a certain time as compared to what they actually did during that period.
Before you get started, you'll need to set up a schedule for your agents in order to see their Schedule Adherence (they can't really adhere to something unless it's assigned first!). The more specific tasks you assign during certain hours using the Intraday Schedule feature, the more accurate each agent's Schedule Adherence report will be for you to review.
Follow the steps below to see an agent's Schedule Adherence report:
Below is an example of a Schedule Adherence report using a fictional agent we've called 'Alex.'
What can we learn from Alex's report?
Well, we now know Alex has a really low Schedule Adherence rate, it's just 16%! From the report, you can also see that he arrived one hour late for his scheduled 7:30 AM start time. Additionally, he didn't take his lunch break from 11:00 AM – 12:00 PM as he was supposed to do. Finally, you can also see that instead of working on the chat as assigned from 12:00 PM – 4:00 PM he was actually outside of the office.
While we hope none of your agents ignore their schedules as much as Alex, these reports will help to ensure that you know when agents are keeping on-task and when they might need a bit more help sticking to their schedule.