Creating a schedule shouldn't be time-consuming, especially if it's something you need to do often! You can create Shift Templates for your schedules, and use them in the future to build shifts more easily.
Create a Shift template by following the steps below:
Click on Schedule
Click on the Shift Templates (located on the left-hand menu)
Click on the Add Shift Template button

An Add Template popup box will appear. In this box, add the following information:
Template Name – Name your Shift Template.

Days – choose which days you want to be on this schedule.

Start time/End time – choose what time of day the schedule should start & end.

Intraday Schedule – Choose which activity you want to assign to the agent during each interval. Not sure what this means? Check out the Intraday Schedule article here.

Agent Staffing Target – Write the target number of agents for this shift.

Assignee(s) – Insert the names of the agents you want on this shift.

4. Don't forget to hit the Save button!
5. Your Shift Template has been created.
Once Created you can Edit, Delete and verify assigned agents of your Templates by right-clicking on each of them: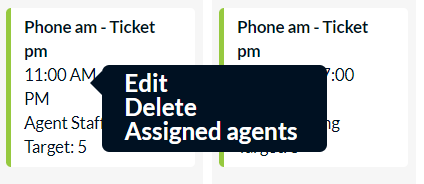 Note that you can also create Blockout and Exception:
Blockout: define days or periods when your Team cannot request Time off (for instance during the high season).
Exception: define days or periods when you cannot schedule your agents (bank holidays for example).